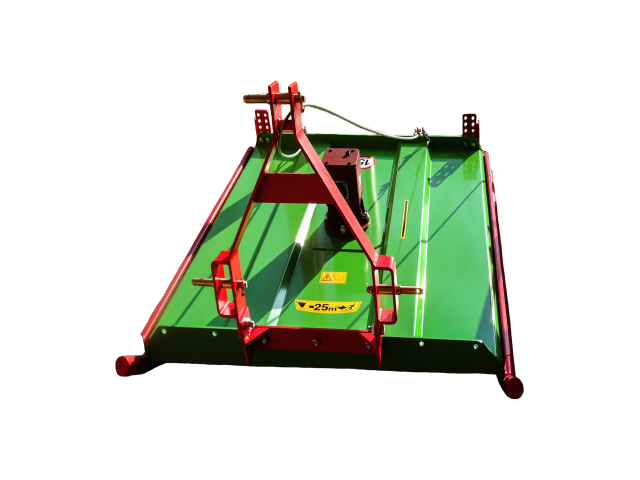 Topper mowers for mowing all types of grass on cultivated surfaces.
Three models are available, intended for tractors with a minimum engine power of 18 kW, 30 kW, or 35 kW.
Suitable for mowing in fields, vineyards, and orchards, and feature an adjustable cutting height.
The four flail blades can shred vegetation residues up to 3 cm thick.
Include a rear roller and gliders/sleds, both adjustable by height.
The lateral displacement is mechanical and allows movement in tight or hard-to-reach areas.
Topper mowers come with a 1-year warranty, and customers can order consumable parts as needed.
| Model | Length | Width | Height | Cutting height | Cutting width | Min. tractor power | Weight |
| --- | --- | --- | --- | --- | --- | --- | --- |
| 1.00 | 110 cm | 113 cm | 98 cm | 2,5 – 7,0 cm | 100 cm | 18 kW | 127 kg |
| 1.25 | 156,5 cm | 138 cm | 100 cm | 2,5 – 8,5 cm | 125 cm | 30 kW | 171 kg |
| 1.50 | 180,5 cm | 163 cm | 100 cm | 2,5 – 8,5 cm | 150 cm | 35 kW | 219 kg |